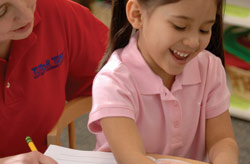 4 - 5 years
Every kid is a SMART kid - that's the philosophy behind everything we do at Tutor Time. At this age, the Tutor Time® LifeSmart™ curriculum builds on your child's cognitive, social and emotional needs in preparation for the kindergarten classroom. Aligned with standards set forth by national accrediting associations, this curriculum cultivates all the ways children are smart. Want proof? A recent kindergarten preparedness study showed that children in our program made substantial gains in development and had the necessary skills to enter and excel in kindergarten.
Lessons are designed to ensure that children grasp concepts in ways that are most meaningful to them. Classrooms include learning centers designed around these "smarts" to encourage independent discovery. So in addition to the 3 Rs, your child will learn to love learning.
Read more about our Tutor Time® LifeSmart™ curriculum, or read concrete data about how our program provides children with the developmental and educational skills needed for a successful transition into kindergarten and beyond.